Yoga Retreat & Adventure
(w/ jaci & blanca)

Mexico City & Puerto Escondido
October 28th – November 4th, 2022
PRICING: $5,250 plus air fare. Price includes all yoga, all accommodations, all transportation, all excursions, all adventures, activities, entry fees and all meals during retreat dates.
This is NOT your typical yoga retreat. Read below to find out more.
Early registration & booking flights with consult with Jaclyn is HIGHLY recommended.
**No Refunds–Payments are applied immediately to hotel accommodations & deposited with vendors**
PURCHASE RETREAT FROM RATES PAGE DROP DOWN PURCHASE MENU
This is an all out adventure, immersion, culinary experience and yoga retreat that will awaken your soul, energize your spirit and leave you fully recharged. Whether you're new to yoga or have practiced for years, whether you traveled before or not… this retreat is for you. All you need to do is have or get a passport and register now.

Our first stop will be in Mexico City. We'll explore the pyramids of Teotihuacan, climb up and into the crater of Nevado de Toluca (one of Mexico's volcanoes) and explore the rich history, culture and art of the City–from cobblestone streets and ancient buildings to galleries, to artisan restaurants, the very best street food, churros and other local traditional fare and festivities. We'll also be in the middle of Day of The Dead celebrations!!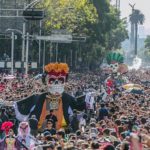 Endless marigolds, offrendas, events throughout the city, music in the streets and one of the biggest parades you've ever seen. We'll partake in a cultural celebration unlike anything you've ever experienced. Costumes and face paint invited!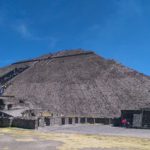 We'll go back in time and discover the mystery hidden within the pyramids of Teotihuacan. We'll stroll through the valley of death and ascend the pyramid of the sun to practice sun salutations, pyramid pose and more at what was once, thousands of years ago, the center of civilization.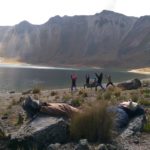 We'll climb 15,198 ft up the fourth highest peak in Mexico, Nevado De Toluca. The inactive volcano has two peaks on the crater's rim: Pico del Fraile (4704m) and Pico del Aguila (4620m) which is the one we'll stick to (more of a day hike). In true Mexican fashion we'll take a lightning fast car ride that is arguably far scarier than anything else we'll do on this trip and laugh about it afterward. Then we'll make slow ascent above the clouds climbing up onto the rim where space and time seems to merge and down into the crater where there are two icy cold lakes, El Sol and La Luna where we'll practice yoga in thin air where altitude brings new challenges and redefines balance, soak up the sun and take a much deserved siesta. (check out this video link https://youtu.be/t9PqVyBtTGM)
Then we'll hop a plane to deep relaxation, beach, sun and more! On the south pacific coast of Mexico we'll wake up with the world, rejuvenate, indulge in meditation beach walks and yoga at sunset, explore the natural ecological wonders native to Puerto Escondido and sleep like babies.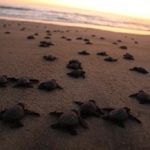 Our week long retreat will include lots of yoga, breakfasts of fresh (falling off the trees literally) fruits and juices and traditional Mexican fare, excursions to for example release endangered turtles. Various kinds of turtles come to bury their eggs in the sand in Puerto Escondido and in time, once hatched, those tiny little guys begin their big journey of life. Once hatched, their internal compass awakens and they are drawn to the sea. In order to get there they need to brave the long haul down the beach with awaiting seagulls and then the waves…and we'll be there to witness. We'll visit one of many voluntary sanctuaries set up along the coast, learn a little bit about the turtles and help release them. Come witness the forces of nature. (Check out this video link https://vimeo.com/125491158)
We'll also, surf, kayak, experience a traditional temezcal and the natural phenomenon of one of the world's best bioluminescence. We may venture to check out natural waterfalls, local shops and markets, visit the bird sanctuaries or iguana and crocodile habitats  and so much more.  And don't worry, we'll leave time to relax poolside at La Quinta Lili or Villa Lili, or to hit up the beach.
We'll wake early one morning to bask in the rising sun as we ride the swells out to sea to go swim with the playful dolphins and turtles. See close up (as in within arms reach) potentially whales, flying sting rays even and more. We'll also learn a little about migration, feeding patterns and local sea creatures from the people here who live off the ocean, depend on it and foster deep respect and protection for it and other natural wonders and local ecosystems. (check out this video link https://www.facebook.com/omarsportfishing/videos/1407709945984090/)
Each evening we will transition with a restorative or sunset practice and then we'll venture to dinner and satiate our senses, enjoy all the fresh, local and phenomenal food Puerto Escondido–this hidden & serene paradise–has to offer.  You'll hit the sheets each night knowing and feeling that you've lived and experienced each day to the fullest.
AWAKENING 
A breathwork, movement and meditation series with Diane.
In these times where much of what we used to be able to take for granted has disintegrated and some days feel like the world is collapsing around us…it is easy to feel lost, overwhelmed, unclear about our purpose or know how to move forward. So come clear your internal landscape, expand your awareness, reawaken your spirit and reconnect with your Self and your purpose. Workshop January 15th 4-6pm and a series of four classes the following Tuesdays Jan 18th, Jan 25th, Feb1st & Feb 8th 7:30-9:00pm. SIGN UP for this series by registering for the Jan 15th workshop on our schedule page.
5, 7 & 20 Day Virtual Series & Workshops
Reawaken your intentions and bring a little bit of focus to your day at your convenience, wherever you are. Video links to the full series or workshop will be sent to the email on record or provided at purchase here:
7 Days of Arm Balances
Its easier to find balance in every pose once you've felt it in an arm balances. Explore body mechanics, access the true strength of your body and take flight…plus have fun falling too.
7 Days of Inversions
This is both a playful and accessible introduction to yoga's standard inversions. Build strength and foundation while you play with balance.
7 Days of Chakras
Bring a deeper awareness to the body and your emotions with the energetic connection and release that comes with a chakra (energy center) based asana practice.
7 Days of Yin
Balance the body and combat stress with that comes with a slow deep stretch and release practice based on Chinese medicine (meridians & acupressure points).
7 Days of Foundation for Beginners
Build strength and mobility in alignment and movement. Work through the foundational poses of an asana practice at a pace that works for you.
7 Days of Rolling
Work head to toe in a mindful release of tension throughout the body. This is a great supplement to any yoga practice, exercise program and or every day stress of life.
20 Day Yoga Quarantine Challenge 
Work your way through mindful asana practices based on the 8 Limbs of yoga over the course of a full month in a M-F format or straight up 20 days.
3 Part Series Backbending Workshop
Work intentionally and skillfully with Jaclyn to develop the range of motion and integration in the hips, spine and shoulders to support wheel and forearm balance. By the time you get to these poses, you'll feel they're easier then the work you've done to get there! But don't worry, we'll start with poses like locust, bow, camel, bridge, etc.
Self Care & Partner Massage Instructional Workshops with Tegan Phillion (of earth & water elemental spa boutique)
There's not a lot of touch or closeness happening these days… So train yourself to soothe some of the tension and tap into the power of touch and or join forces with anyone in your quarantine/pandemic bubble. Available for purchase on the Rates page.
What Happens in Vagus Workshop with Nancy & Lisa
Roll yourself from head to toe and tap into the power of your vagus nerve & parasympathetic nervous system to release stress and tension.
ONE DAY WARRIOR
TBD 2018
6:00AM – 9:00PM, $300
Looking to learn a little more about yoga? Feeling stuck or just need a little boost or reset? Just know that an hour of yoga is great so a day of it is even better?! Come experience what it's like to immerse yourself in yoga all day. Workshops, alignment, anatomy, assisting, teaching, and so much more.
YOGA TRAINING FOR MENTAL HEALTH CARE PROVIDERS, COUNSELORS & MEDIATORS

TBD 2022

Immerse yourself in the power of yoga to heal and transform. This training will teach you how to guide clients through simple yoga flows, meditations, transformations, difficult times, and the power of touch. It will also offer you applicable anatomy and assisting training and expose you to different philosophies of yoga. 50 hours.
Yoga—not just the physical asanas, but all eight limbs—is a complimentary and integral part of mental health and wellness, healing, the process of empowerment, self-sufficiency and transformation. This training can be formatted to fit large or small groups, organizations or companies and held weekdays or weekends, in either of our studios or your work space. $850 for individual registration.  Small group rates and company rates apply.
Schedule tbd

Inversions & Arm Balance Workshop
Integration into your classroom practice
TBD 2022
Whether you have just learned to play with arm balances and inversions or have been flying for years, the question often becomes: when do I get to use them in my classroom practice? Because not all variations and modifications can be queued for each pose and because each pose is afforded a limited number of breath cycles, it is difficult to figure out when to implement all these fun and challenging poses.
Jaci & Co. will be leading an intro recap to arm balances & inversions and extended flow  to demonstrate when and where each pose can be integrated into the flow and to provide ample opportunity for students to practice coming in and out of each pose in classroom conditions. This includes jumping into and out of crow and more.  Time and attention will be spent getting into and out of poses, holding poses, and transitioning back into the class flow.  So come play with arm balances and inversions and find your new flow.
ANATOMY/ALIGNMENT/ASSISTANT TRAINING
TBD 2022

Weekends only | all levels
Love that hands-on assist you get in class? Want more? Ever thought about assisting, teacher training or  a yoga retreat? Wondered how to get more yoga in your life?
We are now offering a 34 hour Alignment/Anatomy/Assistant Training Program aimed at bringing you more into your body, more into your practice and bringing more hands on into our classes. We'll explore anatomy, alignment, the power of touch and body awareness and the art of putting these all together in the form of Assisting.
Saturday : 6-8:30am | 9-10:30am | 1-3:30pm | 6-8pm
Sunday : 6-8:30am | 11-12:30pm | 1-3:30pm | 6-8pm
Saturday : 6-8:30am | 11-12:30pm | 1-3:30 | 6-8pm
 Sunday : 6-8:30am | 1-3:30pm | 4-5:30pm | 6-8pm
Students & teachers may apply these towards continuing education training hours.