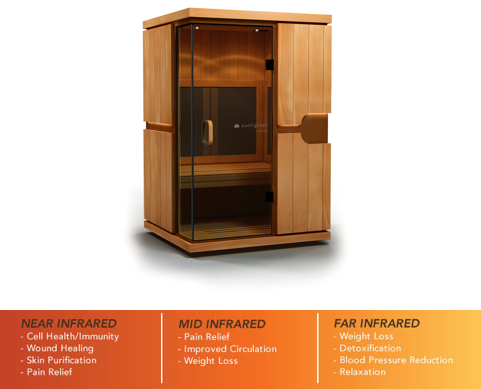 We now offer use of our Sunlighten MPulse Series Infrared Sauna with Solocarbon® 3-in-1 infrared technology – the only sauna technology with three separate heating elements to emit near, mid and far infrared at the optimal wavelength to precisely target health needs—including light and sound therapy! while you relax and detox; reduce inflammation, stress and fatigue; boost your immune system; and increase muscle recovery. It's the perfect compliment to yoga and or any health and wellness routine. Take advantage of 7 preset wellness programs specifically for detoxification, relaxation, pain relief, cardiovascular health, weight loss, anti-aging or customize your treatment. You can read more about Sunlighten Saunas, Near Mid and Far Infrared and benefits at www.sunlighten.com.
Please text jaclyn (617) 775-4341 to book your session(s) appointment including to arrange a weekly timeslot. Single ($40) and 10 Pack ($350) sauna passes can be purchased on our rates page. Towels and water included.
Please note: We are still navigating our reopening post business lockdown. We will reopen online booking, more class options and office/changing area as and when more students decide to come back to the studio. For now we are still understaffed, underfunded, over stretched and finagling ways to keep our doors open. We soo appreciate your patience in this transition!! And look forward to returning to a more streamlined scheduling process soon!
**Consult your doctor with any medical questions, concerns or conditions prior to use. We do not and can not provide medical advice.
Studio Calendar