Welcome! Our teachers are firefighters, lawyers, directors of marketing & communications, management consultants, musicians, massage therapists, assistant scientist & laboratory operations managers, artists, performers, photographers, small business owners, real estate brokers, coaches, social workers, writers, managers, dancers, foodies, cyclists, runners, various sports enthusiasts, parents, wives, husbands, family members, everyday people. Come check them out. We hope to see you soon!
Blanca Alcaraz
Founder, Co-Owner
I came to yoga through resistance.
Raised as a migrant worker, I learned about the boundless power, beauty and energy of the land. My unwavering respect for our soil was literally cultivated in our family's daily dependence on it for survival.
From the work fields I migrated into an adolescence filled with violence, anger and rage, so much so that an educator told me that I would be dead by the age of 16. Fortunately for me, another educator was able to recognize and hone my true potential. Simply put, he believed in me.
One of the first places that I learned to listen to my body and to find in it an expressive path was sports. My years as a competitive athlete in the US and abroad made me entirely dismiss the idea of yoga.
My first experience with yoga was shortly after 9/11. As a firefighter, my sense of loss for everyone that day grew tremendously. Words became insufficient and my body became a receptacle for that silence and stress. For me, exercise has always had a meditative quality that unites my body, mind and soul. Increasingly, however, going to the gym was not enough, and injury and overuse had made many other sports impossible. With yoga, I found that I no longer was trying to prove anything to anyone, especially to myself, that simply being is enough.
As I deepened my exploration of yoga training, I also rediscovered many of the mind-body healing traditions that surrounded my youth—the heat work of Temazcal, the energy work of Curanderos; my yoga practice today blends not only East and West but also North and South.
My life is an example of the power of unconditional love and a testament to giving kids a second chance. I am forever grateful.
Jaclyn Kryzak
Creator, Co-Owner
My mom died at 36 when I was just 10 years old. Because of this I live like each day might be my last–living and giving fully, unafraid, in the present, taking advantage of all life has to offer, challenges included.  I love, coach, lawyer, teach and practice the same way. The practice of yoga is what facilitates this for me–what regenerates and empowers me, keeps me fit in every form to tackle every day life. It's what I aim to share with you.
I spent the first half of my life as a competitive athlete, becoming and being a division 1 women's ice hockey player for Boston College. Being an athlete taught me to work—hard, and to work on me. It taught me to how to support, inspire and encourage people including myself; to be 100 % me because everybody plays a role and I had something important to contribute; to not be detoured by loss or failure; and to never give up on my goals or myself. Turns out this too is yoga and it's what I aim to share with you.
In the second half of my life I found law school, yoga, marriage, divorce, exponential love  and remarriage, and my step son—who has taught me about so many things, but most importantly, about selfless and unconditional love and what it means to be a mother and a caretaker. All this and the root of all my passions to date have led me to  being: a solo practitioner (lawyer) working with people to actively participate in the resolution of their problems or to help build their dreams (family law, real estate, estate planning, business incorporation, etc.), a real estate broker, small business owner, entrepreneur, teacher, trainer and coach of youth sports for Somerville—previously soccer and currently ice hockey. My love and passion, through teaching and coaching , to create, to work through all the details and to help build your dreams…this is what I aim to share with you.
For me yoga is about balancing and recovering from, and preparing for, the craziness of life; figuring out what we need/love/makes us happy/no longer serves us; how to support ourselves being our best self; and learning how to breathe and be where we are while doing all that. As we empower ourselves through this process on our mats, the more able we are to do all this off our mats in our day to day life. In my teaching I create opportunities to practice this through creative and varied sequencing that requires you to learn to be present and connected to your mind and body, that invites you to fall and fail and get back up, that incorporates many balancing poses and focuses on the small spaces and details which we tend to pass over. This is what I will share with you.
Tegan Hughes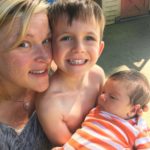 Yoga is an everyday practice and a lifestyle for me. I was introduced to yoga through a wonderful teacher 20 years ago. She encouraged the class to just show up. Walking through the door was the hardest part, even if you walked right back out again or spent the whole time in savasana. Just getting there was a success.
Eventually the practice will grow….and it has. In 2011 I took a time out from practicing massage and returned to Thailand to complete my 200 hr teacher training with Paul Dallaghan on Koh Samui. In time I was prenatal certified through OM Births during my second pregnancy. My classes are rooted in tradition paired with the freedom to come as you are. I focus on alignment and breath at a pace that allows the body to offer feedback to the brain in order to avoid injury, build strength and find your way deep inside.
As a mom of two boys I understand sometimes life makes getting to the mat a challenge. My intention is to help you grow YOUR practice, body, mind and spirit on your terms.
Norm Brzycki
My mission is to inspire and empower people to transform their lives, themselves, and their careers.
I have had the pleasure and privilege of helping thousands of people better their careers, jobs, performance,and lives. For well over a decade I have worked with people and organizations pursuing their passion, their goals, and their dreams. My experience and expertise includes working with private individuals and groups as well as small, medium, and large organizations. The people I work with come from a wide array of backgrounds and interests including artists, athletes, college students, entrepreneurs, CEO's and corporate executives. Their ages have ranged from 18 to 65. All of these individuals have very different circumstances, dreams, wants, and hopes. All have a unique voice, a purpose, and a want to live a motivated and passionate life. All of these people I have helped.
Kristi McNeil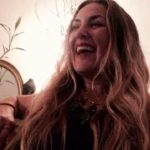 My journey with yoga began over fifteen years ago when I first moved to Boston from Utah – it was sort of like my first friend here. Over time, my practice has developed and brought me so much joy and energy which has carried over into my life beyond the mat. I have worked in the restaurant, hospitality and music industries for many years and my practice gives me the perfect balance between my personal life and my chaotic professional life—a place to quiet my mind and start listening to my body.
My goal is to help bring this balance to my students' lives. I believe in the power of moving meditation, using breath as a guide to open and release the body. I want the practice of yoga to be accessible and personal to you, with guidance in how to soften the edges of our everyday life off the mat. I offer a power flow midday class on Wednesdays, a restorative, slow flow on Sunday evenings, and a week long retreat in beautiful Panama, a place that is very special to me. I also love to use aromatherapy and hands-on assists for some extra love if it's welcome. I am honored to share my love of this practice.
Janelle Browning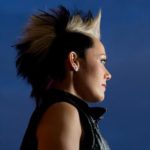 I was never athletic as a kid. I wasn't good at sports, and I was self-conscious about my lack of coordination. I first attended a yoga class in the late 1990s, and it provided me a new feeling of presence and strength I'd never had. It gave me the confidence to engage in all kinds of intense exercise–boxing, pilates, running, spinning–and fundamentally changed how I live in my body.
Regular exercise became central to my life in ways I'd never expected, but the impact was primarily limited to physical benefits. I felt great when I left the gym, but it wasn't a lasting feeling, and I had to exercise nearly every day to maintain that equilibrium. To be frank, if I didn't exercise, I got anxious. Yoga has given me a way to integrate an exercise practice that connects my body and mind. It gives me an ongoing foundation of focus and ease —physically, sure, but also emotionally and mentally—that is not dependent on my logging a certain number of hours per week at a gym. It has improved my strength and stamina, and continually supports my performance in other physically demanding activities. I still love to box.
Yoga has provided me with a balance I've never found anywhere else. My practice has taught me hard and much-needed lessons in slowing down. When a recent unexpected knee surgery kept me out of the gym and the studio for nearly a month, I didn't have the anxiety spike I'd have expected; my equilibrium is no longer solely tied to exercise. My practice extends throughout my life. It has changed the way I breathe. It has taught me to enjoy the transitions and pauses as much as I enjoy landing where I've aimed.
Virginia White
Like most of us, I tend to run at full-speed and have long sprints of work work work (and stress stress stress). For me, a yoga class offers a little time and space to slow down. 
Once I'm on my mat I find that everything I need is within reach (sometimes with the help of a block or two). 
I always walk out of the studio standing a little straighter, breathing a little deeper, feeling a little lighter. Those shifts are small, but can be so significant.
In my classes I make a point to start and finish with the basics: steady breath and deliberate movement. 
Sometimes, a sun salutation is all you need to feel complete. On other days you need to challenge yourself to try new poses, transitions, or holds that are outside of your comfort zone. Wherever you fall on that spectrum, you're invited to come and practice and find your own small shifts.
Diane Wong
After many years of high impact aerobic exercise I met and fell in love with heated Yoga. In hot yoga I found a holistic approach to healing and strengthening my body while deepening my spiritual practices. And at b|e. I found the perfect studio to support my laid back style of yoga.
I love the simplicity of yoga. It helps me keep my body fit, fluid and strong. For me, yoga is the perfect way to keep moving, while having fun and enjoying life. And this is what I bring to my yoga teaching.
I bring a simple fun approach to developing and maintaining strong, flexible, and balanced bodies while releasing tension, detoxifying the body, quieting the mind and creating inside a feeling of calm, lightness and ease. If you are looking for a simple, gentle yoga class, I welcome you to come and play with me.
Nancy Bernhard
I came to yoga for the chance to slow down in an overdrive life of academics, parenting, and running.  I stayed with it because the feeling of release was so delicious.  Over time, I realized it was more than a series of movements; it is a wise and vital guide to living in a human body.  My practice has taught me how to observe without judging, how to ease rather than force myself into something difficult, how to stay calm and present when something remains difficult, and how to release with purpose.  After a dozen years of practice, I began to teach.  In class I offer space for students to take what they need on any given day, whether it's to ground, reach, strengthen, relax, or just breathe.  I'm grateful to Coeli Marsh of the Teachers' Study Project, and to Blanca and Jaci for creating the wonderful b|e. community in Somerville, where I've lived for more than 20 years.
Anita Kim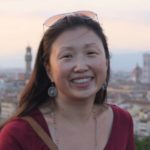 Like many, I came to yoga looking for exercise.  Never an athletic person, exercise was a way I could counteract the amount of food I can eat (which, believe me, is a substantial amount).  But I also came to yoga at an emotionally difficult time in my life: in the midst of a separation and divorce.  Being on my mat allowed me the space to process what was going on in my head and in my heart and to find the strength to move forward.  As someone who studies lobsters for a living, an animal that can only grow by shedding its shell; it's fitting that my practice allowed me to grow by shedding the layers, roles, and definitions that no longer fit me.  Instead I found my own truth (and luckily it doesn't look like a lobster).  I continue to learn that I don't have to try and be perfect or try and be who I "should" be, that I just have to be me.   I hope to continue to learn and share this journey in classes that provide space for mindfulness and meditation sprinkled with some humor and goofiness along the way.
Catherine Musinsky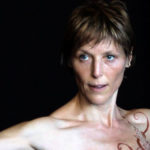 I have danced all my life and earned an MFA in Dance from NYU's Tisch School for the Arts (1995). I started yoga at Jiva Mukti the spring of my last year at NYU and was surprised not only at how it improved my dance technique, but that it immediately helped me overcome some fear and tension that had been my constant companions. Ten years later yoga enabled me to remain grounded and hopeful through the harrowing treatment of breast cancer.  
In 2009 I received my Yoga Teacher Training in Embodyoga, from Patty Townsend.  This yoga teaching philosophy encompasses all the systems of the physical and energetic bodies (not just bone and muscle), all eight limbs of yoga (not just asana), and uses experiential anatomy techniques based on Body Mind Centering and alignment principles based on BMC, Iyengar and Forest yoga styles.  To see me on film, check out the 4 minute short, UNCHASTENED (unchastened.com), by Brynmore Williams, where I perform and discuss how movement and henna body art helped me to accept the changes that breast cancer brought to my life.
Lilly Benham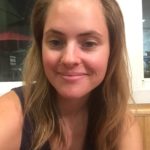 I am a person who dwells most deeply in the heart space. My yoga practice and teaching is built around inclusion, awareness, compassion and empathy – for the self and all others. I am currently pursuing my Master of Education with a license in Middle School Humanities from Lesley University. These same values drive me on and off the mat. I believe that we must be present in our bodies, hearts and minds in order to feel and heal – as individuals and as a society. Yoga is a wonderful place to start.
It is a privilege and an honor to teach b|e.'s community class. I care deeply about creating a more socially just and equitable world. Teaching the community class aligns with these personal values and pushes me to create an inclusive space in every class. Inclusive of every personal identity, income and level of practice.
I strive to offer balance in my classes. The balance between strength and surrender, movement and stillness, work and allowance, and the letting in and letting go of emotion. My main teaching goal is for every student to feel a little better walking out of class than they did walking in. To feel a little more grounded in self-awareness and self-love.
Will Balsham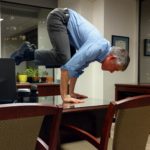 My classes will always be grounded in a strong, vigorous sequence of poses to work the body, with an underlying message of how we can bring the benefits of our practice from our mat to the rest of our lives. I teach because I want people to enjoy the full benefits of yoga, as I understand them. There are a lot of things that took me a very long time to discover for myself and I hope to make it easier for others. For example, it is very possible to practice for a long time without fully understanding the purpose of a pose and even potentially doing the pose in a way that is harmful. I try to have enough instruction of alignment that people begin to understand the purpose and benefit of the pose.
I was introduced to yoga by a friend. More accurately, I was dragged, kicking and screaming, to my first yoga class. I can't say I loved it, exactly, but I realized immediately that it was something I could do and that the practice was real exercise.  Over time, I also realized the meditative aspects of the practice. I realized there was space to practice other things while we practice yoga. Things like non-judgement, compassion, using one's breath to control one's emotions, which is very empowering.
For my "day job" I work in management consulting, working with telecommunications and technology companies to improve their businesses and position themselves for success in a changing market. I played rugby in college, ran the New York Marathon and am currently an avid mountain biker, snowboarder and skier. I love to go hard and fast and almost out of control. I find yoga to be the perfect compliment to my active lifestyle.
Alicia Walker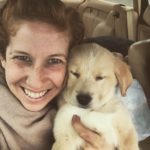 After multiple sports injuries I went to my first yoga class with a friend. Initially I was interested in the workout and benefited from the social aspect of having a yoga buddy. But over time yoga became an integral part of my life for mental well being and balance of life, work, stress, fitness, and most importantly self-care. So did the community aspect of yoga (which is an incredibly powerful network of wonderful people!).
I have been incredibly lucky that teaching, learning, and experiencing movement is my purpose in life. By day I work as a pediatric occupational therapist and by night as a professional circus performer and burlesque performer. I have the privilege daily to work with people of all ages and abilities to make gains in movement, play, social skills, fun, and health. I strongly believe all people, of all ages and abilities, should have the opportunity for play. I am grateful for the opportunity to share that through the practice of yoga.
Ashley Rhodes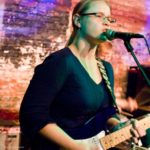 I discovered yoga through a free yoga class at college in 2004 and immediately felt the transformative effects. I do not consider myself to be an athletic person and I've struggled over the years to commit to a regular exercise routine, but yoga has become a way to get my heart pumping and the continuous movement linked with breath allows me to find a meditative state and experience my true inner strength.
My professional background is in music and nonprofit work. I believe that through the study and practice of music and yoga students can build confidence, foster creativity and find compassion in all that they pursue in life. My passion for music and yoga drives me to teach and is an outlet to share the joy that each of these practices bring me. My yoga classes offer space for each student's practice, an intentional focus on breath and a strong vinyasa flow with options for students of all levels.
I love to incorporate eclectic playlists in my classes, particularly rock and metal genres, although I may include folk, reggae or blues from time to time. Music and rhythm can quickly set the tone of a class and has the power to transform energy. I gladly accept music recommendations or requests for any class that I am teaching as I'm always on the lookout for something new!
Jill Guardia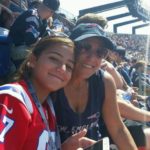 Yoga is my "me" time. Like many, yoga came to me after a life-changing event. In my case, my second child. Nothing earth-shattering there, I just found myself with two young children, lucky with a support structure around me and time on my hands to work my body back into pre-pregnancy form. With two young children, a full time career and a sandwich household with my aging mom there was little left for me to focus on me, I needed to find an outlet.  And I did…in Yoga.
An opportunity to give myself an hour, yoga became much more to me–it became my peace and quiet, my escape, my exercise, my health and my expression of myself. I've built a strong professional career and reputation in software technical and sales training. I've had opportunities to travel the globe, live abroad in both Singapore and Australia and work for and with people who have inspired me every day. I was fortunate enough to volunteer for Somerville Youth Hockey and gave 9 years of myself to the board and the community bringing back a thriving youth hockey organization. Now, 15 years later, I need yoga to keep me sane, to keep my body in motion and to calm my busy mind.
I teach to help others find that same connection. The heat and community and family spirit at b|e. in Union Yoga calls to me. I hope to see you in class, to move through your vinyasa, to open your mind and your heart to the warmth and to move in spirit and body.
Lizzie Grobbell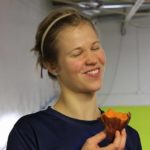 I originally dabbled in yoga throughout high school and college as a means of injury prevention and recovery during competitive sports seasons, including collegiate ultimate frisbee at the University of Michigan. After my ultimate career ended due to a traumatic brain injury my passion for yoga emerged when it became clear that it was a way to clear my mind and reconnect to my body. Living in the present moment has always been a challenge for me, especially throughout recovering from my brain injury, graduate school and even now in the working world. Fortunately, yoga helped me to create space, be present in my own life and not to take life too seriously!
Now, in addition to yoga, I'm able to enjoy rowing, CrossFit and (attempts at) practicing meditation. Being an athlete and having experienced the healing benefits of this practice, I try to weave the physical elements of athletics and mindfulness into yoga classes to create balanced flows that satisfy mind and body and create opportunities to improve physical and mental health.
Corilynn Fiset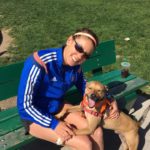 Coming from a competitive track and field background, my fitness was primarily fast paced and intense cardio workouts.  I excelled in sprinting events at the National level in high school and continued on to the Collegiate level at the University of Massachusetts Lowell.  Recently I ran my first marathon and qualified for the Boston Marathon 2017. I took up yoga originally as an "active rest day" to balance my training program and improve flexibility.
Eventually my excessive running caused me to develop an overuse injury.  It was during recovery that I began to attend more yoga classes which helped me to overcome my injury. In doing more yoga I was able to make the mind body connection, I focused more on the breathing component, I stepped away from my competitive nature and started to listen to my body. Before Yoga I would race the clock when I ran, leaving me exhausted and sore from pushing myself too hard. Now I listen to my body when I'm tired and I leave the stop watch at home.
Surprisingly, and yet not so surprisingly, the physical yoga practice and the yogic approach to running has improved my performance, fitness, flexibility and mental focus.  Yoga is there to lift me up when I'm feeling down, give me energy when I'm low and calm me down when I'm stressed.  It has allowed me to accept, love, and honor my body.  My classes are designed to be moderately challenging and to bring, I hope, all the same benefits of yoga to my students.
Pamela Hersch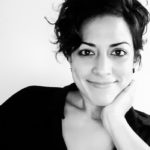 I was born and raised in Mexico and transplanted to Boston when I got accepted to Berklee to study music. My first introduction to yoga happened in Mexico in 2000 and I was slow to warm up to it. My first few classes left me frustrated, feeling like I just didn't get it. But something brought me back again and again, and each time I got closer to understanding what I needed. After sampling a variety of types of yoga and different classes both in Mexico and the U.S., I found that what most resonates with me is the consistent, mindful flow of vinyasa (breath and movement).
In previous practices I found myself primarily focused on my physical experience, judging it and myself in ways that were not helpful. Now my practice cultivates a sense of ease and acceptance that permeates all aspects of my life. Yoga has fundamentally changed how I live in, see, and experience the world. I am grateful to have found yoga, and I am eager to share it with others. I also like to toss in a little Spanish here and there, so if you're looking to brush up on your language skills, my classes are a good opportunity for that, too.
Mally Smith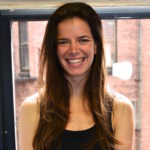 I first came to yoga through dance and improvisational movement. I have always been a kinesthetic learner, experiencing and understanding the world through my body and sensation. Yoga was a natural addition to my physical practice.
During my 200hr yoga teacher training at The Kripalu School of Yoga, I began to explore the more spiritual aspects of yoga and fell in love with the practice of meditation in motion. The weaving together of yoga, dance, mindfulness and spirit offered me a powerful invitation to connect more deeply inward and reach more fully outward. I was hooked!
Since then, I have completed a 500hr teacher training in Indonesia, studied Divine Sleep Yoga Nidra, and continue to learn through my own practice on and off the mat. My classes range from gentle to vigorous, with a strong emphasis on listening to your body and always leaving room for personal modification and independent exploration. I strive to create a safe space for my students to get to know their unique self – body mind and heart – allowing for deep physical, mental and spiritual inquiry.  All are welcome!
Daniell Cohen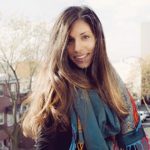 I am a Somerville based artist, yogi and aspiring art therapist born and raised in Israel. After obtaining a BFA in photography from SUNY Purchase College I spent several years pursuing artistry in New York City. My chosen platforms of creative expression include, but are not limited to, photography, poetry and painting/drawing.
In an effort to pair my passion for the mind-body integration with the arts, I pursued a 200-hour yoga teacher training with Jaya Yoga Center in Brooklyn, NY. Since then, I have been leading art and yoga classes in various locations in the US and internationally. Currently I am pursuing my Master's in Art Therapy and Mental Health Counseling at Lesley University and am heavily involved in social justice movements locally and beyond. I consider myself a social activist, feminist and queer artist as well as a holistic art therapist who strives to inspire, connect and move others closer towards equality and radical acceptance.
 Monica Chaffee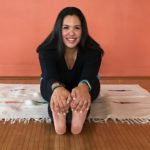 Yoga saved my life. It provided a grounding anchor and safe place to come during my times of depression, alcoholism, and recovery.  I began my practice nearly 20 years ago as a counter balance to weight training and running. I received my 200 hour yoga certification from South Boston Yoga and quickly realized that I found what I had been looking for my entire life: myself. I reluctantly pushed through my own falsities and had to dig deep to reveal truth. I quit my job and began teaching yoga and prenatal yoga. And… I had two beautiful children.
Now yoga brings me to the place within, below the façade that activates deep release and exposes the vulnerable raw emotions that get energetically and physically stuck inside. The true transformation occurs inside.
I teach yoga from the perspective that we are all healers coming together to heal one another. The space that we gather becomes a sanctuary for asana, pranayama, and all studies of yoga. We trust each other as we flow in movement and breath. My classes are embedded with vinyasa flow, transformation work, crystal healing, sound healing, aromatherapy, and intuitive oracle. I am a practicing intuitive and crystal/pendulum healer and also read Tarot and oracle cards.  We are here to learn from each other and grow.
Gen Richardson
Anastasia Kanistras
Brittany Musto